Globus provides a secure, unified interface to your research data. Use Globus to 'fire and forget' high-performance data transfers between systems within and across organizations.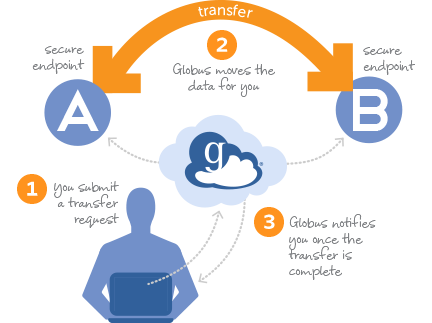 Research often requires sophisticated data management capabilities across systems and institutions. Globus was built to provide these capabilities. Laptops, supercomputers, tape archives, cloud storage, HPC clusters, and scientific instruments are some of the systems that can be connected to Globus.
Globus lets you use a web browser or command line interface to submit transfer and synchronization requests, optionally choosing encryption. Globus takes it from there. With this 'fire and forget' model you can concentrate on your research while Globus handles the mundane (but important) details of successful large-scale data transfers.
Your data is transferred directly between the source and destination systems while Globus tunes performance parameters, maintains security, monitors progress, and validates correctness. You can check the transfer status at any time via the Globus activity page and will receive email when the transfer completes.
If a network or system involved in the transfer goes down, Globus automatically resumes the transfer when the component comes back online. If an issue requires action from you, such as an expired credential or exceeded disk quota, Globus resumes the transfer after you remedy the problem. If a transfer has not made progress after a period of time (usually 3 days), the transfer will expire and you will be notified.
In addition to transfer, Globus offers sharing, publication, platform, and management capabilities.
Why Use Globus?
Globus transfer, sharing, and publication are easy, fast, secure, and reliable. Sites around the world rely on Globus for research data management, freeing users to spend more time on research.
Globus presents a secure, unified interface to identities and storage across Globus-connected sites, within the visibility and access control limits set by each site. Globus makes life easier for researchers with data on multiple systems and for system administrators who must support collaboration while maintaining secure systems.
Globus is software as a service (SaaS), enabled by the cloud and built with widely-adopted industry standards. Globus works with your existing systems and storage.
Globus was developed by researchers, for researchers. Computer scientists at the University of Chicago and Argonne National Laboratory purpose-built the Globus services to meet the needs and requirements of the research community. Dedicated professionals provide commercial-quality software and user support. The Globus team is committed to sustainably supporting science, not to making a profit.